High-Performance Custom Industrial Furnaces, Ovens, and Process Solution Systems
For more than 50 years, Kleenair Products Co. has been designing, engineering, and manufacturing high performance custom industrial furnaces, ovens, and other industrial process solutions. We have the experience and the expertise to deliver completely custom-built systems that are tailored to your project's unique specifications. So, whether you are searching for an industrial furnace or oven, we have the custom options that will address all your project's exclusive needs.
Our innovative industrial furnaces and ovens are known for meeting or exceeding the highest standards for safety, productivity, efficiency, and uniformity. We have provided custom units for aerospace, military, and other demanding markets that require tight tolerances and superior performance.
Industrial Furnace & Oven Custom Design Solutions
All our industrial ovens and furnaces are completely custom, and many are built with innovative designs and features. Our collective wealth of expertise—across many different processes and industries—enables us to produce new, highly effective solutions for challenging applications.
Our advanced engineering and manufacturing capabilities, along with the quality, performance, and reliability of our products, have earned the loyalty of countless returning clients.
Top Quality Industrial Furnaces, Personalized Service & Fast Installation
At Kleenair Products Co. our fully customizable industrial furnaces and ovens are reliable and built to last, with advanced control systems and HMIs (human-machine interfaces) that make them easy to operate. All our products are manufactured at our facility in Clackamas, Oregon, USA, and are fully tested to ensure proper operation. We ship our finished products by factory-direct by land or sea to their destination, providing direction throughout the entire installation process.
At Kleenair, we Produce high quality reliable, high quality, high-performance batch furnaces and ovens that are completely custom-designed and -built to match our customers' application and performance requirements. Additionally, all our batch furnaces meet NFPA 86 and OSHA requirements.
Kleenair's continuous furnaces and ovens are among the best and most dependable on the market. With a host of exclusive, proprietary features, these furnaces deliver unparalleled performance and usability in even the most demanding applications. All our continuous ovens and furnaces meet NFPA 86 and OSHA requirements.
Kleenair Products Co. designs and manufactures automated material handling systems for use with our industrial furnaces, batch furnaces, and continuous furnaces. We provide customized automation and robotics solutions for loading and unloading parts and materials, as well as for more specialized operations like quenching and forging.
All our automated systems are designed to meet the highest safety and quality standards. We also provide parts and services for our automated material handling systems.
Sometimes, smaller is better. Because we're a small company instead of a large corporation, we can provide a level of customer service that bigger companies cannot. We're easy to work with, with an experienced and personable team that knows what users really need from products like ours. We will work with you to develop the perfect furnace or oven for your specific application, no matter how simple or complex your requirements may be.
Whether you are searching for specific parts or need a specialized industrial furnace and oven service, Kleenair can get your industrial furnace or oven up and running in no time. To keep your industrial furnace or oven functioning to the best of its ability, Kleenair Products provides onsite oven and furnace calibration and certification services, temperature uniformity services, combustion system safety audits, troubleshooting, and industrial heat process system retrofit services.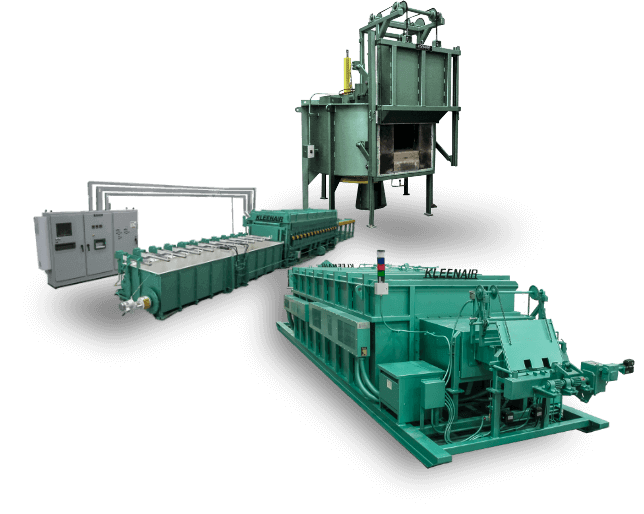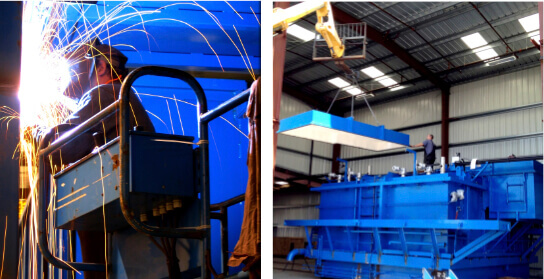 World Class Industrial Furnace Technical Support, Parts and Service
We build our custom furnaces and custom ovens with durability and reliability in mind. They're engineered for many long years of dependable service, even in the most demanding applications. But even the best-built products need maintenance eventually. That's why our products are engineered for easy maintainability.
If your oven or furnace needs replacement parts or needs emergency or routine maintenance, contact our service department for immediate help.
We Ship and Install Custom Industrial Ovens & Furnaces to Customers Throughout the World
Located approximately 25 miles off the coast of Oregon, Kleenair has access to freeways and port systems that allow us to ship even our largest custom engineered furnaces and ovens across the globe. Once shipped, we will work with local contractors in your area to provide fast, efficient, turnkey installation. In most cases, installation, testing, and qualification can be completed in less than two weeks.
Custom Industrial Furnace Manufacturers Photo Gallery
At Kleenair Products Co. we are industry leading industrial furnace manufacturers, as well as builders of custom industrial ovens. Check out our photo gallery for pictures of some of our most recent industrial furnace and custom industrial oven projects.
Contact Kleenair Products Co. for Custom Industrial Ovens & Furnaces Today
Contact us for more information regarding our custom engineered furnaces, ovens, and advanced automated material handling solutions. We build the most reliable and efficient custom industrial furnaces and ovens in the industry.