Custom Industrial Furnaces and Ovens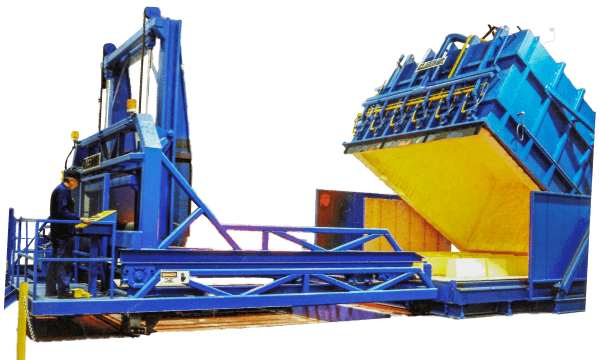 Featured:
Industrial Heat Treat Furnace.
Tip-up batch furnaces, used by the  aerospace industry in the heat treating of titanium and high nickel alloy forgings. Built in 1997, this automated system includes a quench tank in the floor, with a manipulator in front of each Furnace. Visit our photo gallery for more Industrial Furnace and Oven Material Process photos.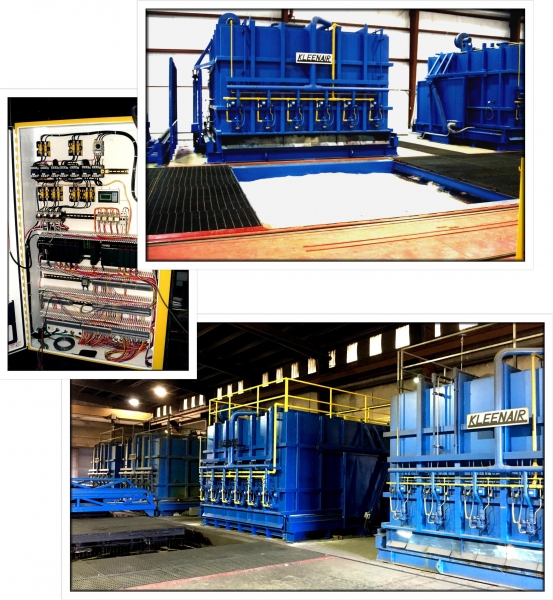 Custom industrial ovens and furnaces are built to perform specific heat treatment processes within a contained fireproof box. Even though they can perform similar tasks, there are key differences that separate industrial furnaces and ovens. Both industrial ovens and furnaces strive to obtain a higher processing temperature in comparison to open-air systems, as well as the efficiency gains of a closed system. Additionally, custom industrial furnaces and ovens are designed to provide a wide range of heating processes for your specific needs.
Kleenair Products is the industry's foremost industrial furnace manufacturers and industrial oven manufacturers.  We have been designing, engineering, manufacturing, and installing custom industrial furnaces and industrial ovens for more than 50 years. Kleenair has the experience and the expertise to create custom furnaces and ovens that deliver the performance that our customers' processes require.
All our industrial furnaces and industrial ovens are custom-designed and custom-built to match each customer's exact specifications. We are the custom industrial furnace experts—contact us today to get started.
Custom Industrial Furnace vs. Custom Industrial Oven: What are the Differences?
There are numerous key differences that separate the functionality of an industrial furnace from that of an industrial oven. These key differentiators will impact what processes are best suited for your application. The categories that separate industrial furnaces from industrial ovens, include the following:
Temperature – The biggest difference between these two processes is the temperature range. Ovens generally ovens operate in temperatures from 250oF – 900oF, while furnaces operate in temperatures of up to 2000oF or higher.
Atmosphere – The atmosphere within both systems is relatively similar with both able to operate in an air atmosphere, or an inert-gas atmosphere. However, furnaces are also able to operate in a combustible atmosphere, of hydrogen, exothermic or endothermic gas.
Heat Distribution – Industrial ovens release air into a separate heating chamber, which generates a high amount of recirculated air. In comparison, industrial furnaces introduce heat directly to the product. Within a furnace setting the heat source can also be placed in various configurations in order to provide uniform heating.
Applications - Industrial furnaces are often associated with the heat treatment of more robust materials, including metals. A wide range of heat treatment processes can be effectively performed in a furnace, including annealing, tempering, and carburizing. Ovens are often utilized for curing purposes.
Custom Industrial Furnace & Oven Options
Based on your specific application, Kleenair Products offers a broad range of custom industrial furnace and oven options. Kleenair Products is the nation's premiere industrial oven manufactures and industrial furnace manufacturers. Our knowledgeable experts can produce the following types of custom industrial furnaces and ovens: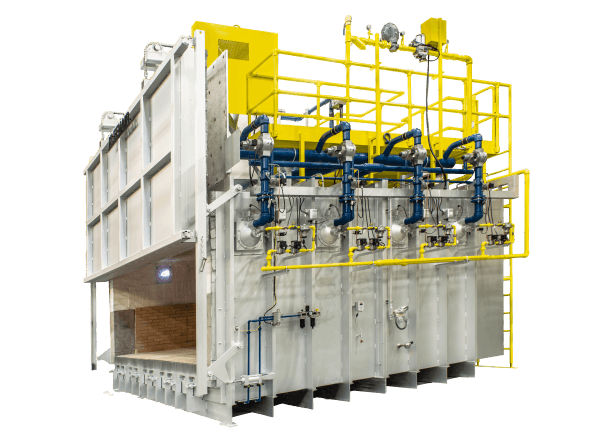 A forging furnace is used to heat metals to their forging temperature prior to or during the forging process. Our custom forging furnaces provide superior temperature uniformity and usability to ensure that all process temperatures are met during your forging operation.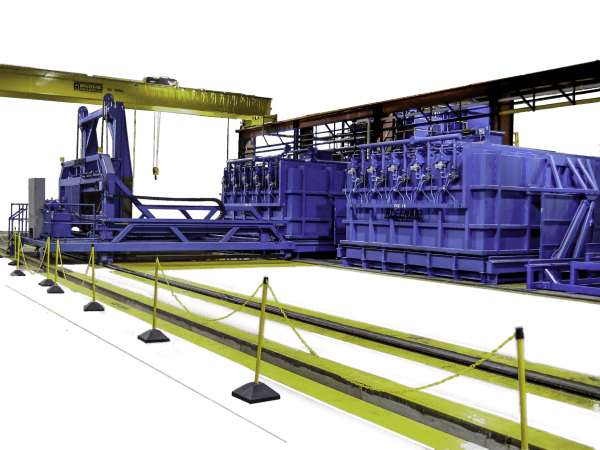 Austenitizing, stress relieving, annealing, normalizing, aging, and other heat treating operations require precise control of temperature and processing time to ensure that the treated materials undergo the necessary changes. Our custom heat treating ovens feature fully programmable controls and optional automated material handling and quenching systems for reliable heat treating.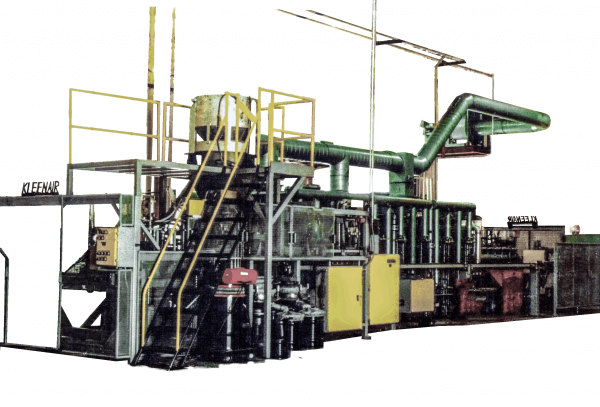 Tungsten reduction and molybdenum reduction are carefully controlled  metal processing operations. Our reduction furnaces provide precision temperature control and uniformity, and are readily compatible with hydrogen process atmosphere requirements. Advanced control systems make them easy to program for complex operations.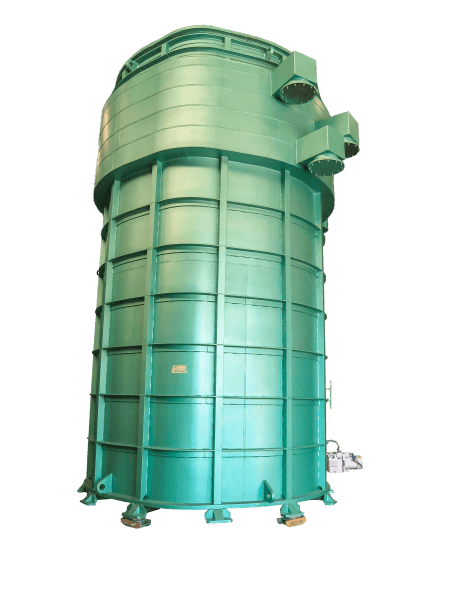 Titanium and zirconium reduction and distillation processes require a furnace with precise temperature control and reliability. Kleenair's custom reduction and distillation furnaces are built to meet your performance requirements and easy to program for strict process management.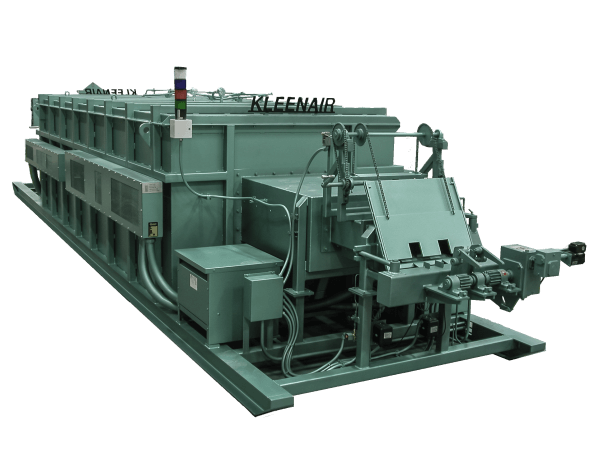 In powdered metal sintering and metal injection molding (MIM), fine granular metal is mixed with special binders to create a slurry that can be poured, pressed, or injected into a mold to form the part shape. Metal sintering furnaces and MIM furnaces provide precise temperature to debind and sinter the parts, which leaves solid metal parts behind.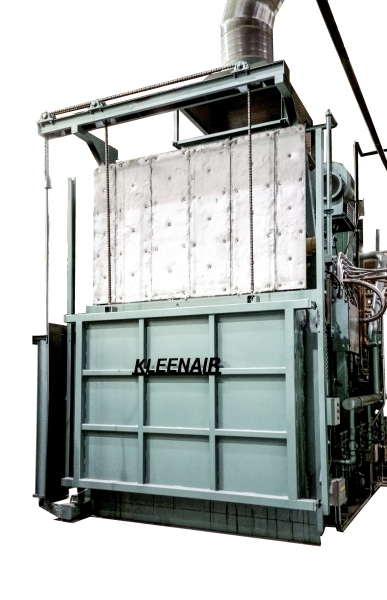 Investment casting is a complex, multi-stage process. A key phase in investment casting is the dewax and preheat of ceramic molds that will be used to contain molten metal and create the end part. An investment casting furnace provides the high and consistent temperatures required to fully harden ceramic molds and melt out the wax that gave the molds their initial shape.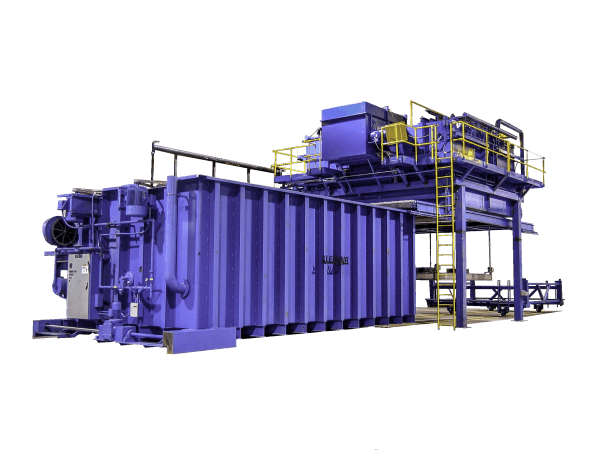 Quenching is a critical step in many heat treating and metal processing operations. Kleenair can provide a custom quenching system that is seamlessly integrated with your industrial furnace, with customized controls and automated material handling technology for fast and efficient heat-and-quench processing.
Advanced Combustion Systems for Enhanced Temperature Uniformity
For high temperature operations with maximum fuel and energy savings, we incorporate state-of-the-art combustion systems into all our furnaces and ovens. Proprietary insulation techniques minimize heat loss and help maintain a consistent internal temperature. Our industrial ovens and furnaces conform to AMS 2750 standards for temperature uniformity.
Premium Quality Door Components
There's no question that components like door seals, hinges, and actuators are critical to the performance and temperature uniformity of an industrial furnace  or oven. At Kleenair, we manufacture the industry's best door components. Often-imitated but never-duplicated, our furnace door technology provides reliable seals, unbeatable durability, and fast, easy action in any application.
Rugged Construction for Extended Working Life
All support structures and internal components of our industrial furnaces and ovens feature heavy-duty design and construction. Robust materials and proven manufacturing processes give our products durability and reliability for many long years of operation, which gives you an outstanding ROI.
Custom Industrial Oven & Furnace State-of-the-Art Features for Exceptional Usability
Our industrial furnaces and ovens combine innovative heating technology with intuitive, easy to use controls and a range of unique, proprietary features to deliver dependable performance in challenging applications. All our industrial ovens and furnaces meet NFPA 86 and OSHA requirements.
Innovative Control Systems & HMIs for Custom Industrial Furnaces & Ovens
All Kleenair industrial furnaces and industrial ovens feature innovative control systems for unparalleled ease of use. Our HMIs (human-machine interfaces) are customized to provide all the control capabilities your process requires, with no unneeded extra features to get in the way. Engineered for intuitive operation, our control systems can be integrated with your facility's computer network for remote use. 
Automatic Material Handling Systems & Solutions
As your process requires, Kleenair Products can integrate automated material handling systems into your furnace or oven. We can develop custom-designed robotic manipulators that are tailored to your unique process requirements, or provide "standard" solutions from Siemens, Fanuc, and other industry-leading robotics OEMs.
Advantages of Robotic Material Handling Systems
Automatic material handling systems provide benefits that cannot be matched by manual systems labor. Some of the greatest advantages of robotic material handling systems, include:
Increased uptime
High levels of consistency
Faster production times
Decreased cycle times
Contact Kleenair Products for Custom Industrial Furnaces & Ovens Today
We are your expert industrial furnace manufacturers and industrial oven manufacturers. Turn to Kleenair for the design, engineering, manufacture, and installation of a custom industrial furnace or oven that meets your application and performance requirements. Request a quote or contact us to discuss your project today.